About Adapt To Employment Programme
Career & Life Planning has developed the Adapt to Employment Programme to assist jobseekers in their transition back into the workforce.
This programme includes 10 modules on the core skills required by companies from their employees. These modules ensure the jobseeker is fully prepared for entering the workforce.
The programme ensures the participants are not only aware of the competencies required but learn best practices in a blended learning environment combining both theory and practical application of skills. The Adapt to Employment Programme will ensure that the jobseeker can transition smoothly into employment.
Business, Email & Culture Etiquette
Communication & Interpersonal Skills
Conflict Prevention & Management
Setting Goals & Objectives
Time & Workload Management
Critical/Creative Thinking & Decision Making Skills
Working with Different Generations & Cultures
Working in Teams
Meeting Effectiveness
This program can be delivered in single modules or as an overall program. Delivery is flexible with regards to duration, dates, location and completion.
This programme can be combined with other products & services from our Activate range.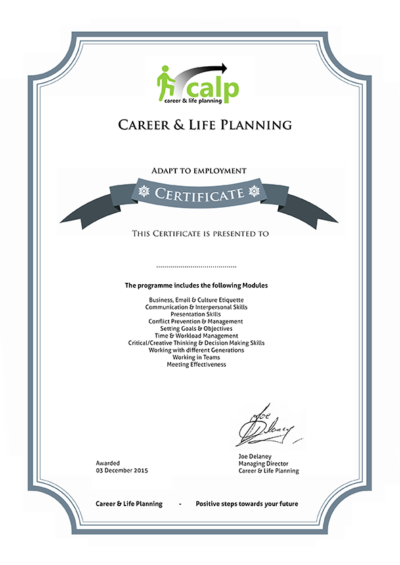 Recognised Certificate of Completion.
Contact Us
Would you like to learn how our Career or Life Coaching can work for you? 
Please contact us for a free consultation.