About Job Seeker Journey & Enjoyment of Employment Programme
The Job Seeker Journey & Enjoyment of Employment programme has many delivery options ranging from 1 day to 3 days and is a great introductory course or refresher course to people who are unemployed.
It provides them with practical skills in a highly interactive, engaging, fun environment and covers what it would be like to be in employment, what benefits it would give them, socially, financially, personally and also what skills they can offer to employers.
Using coaching and recruitment case studies this unique seminar helps people get focused on working towards the Enjoyment of Employment. The programme can also be used as an introduction to Accredited or other Employability programmes you are running.
A copy of our
Leave Unemployment
Handbook can be included in the programme as an optional extra.
Job Seeker Journey Explained
The Job seeker Journey focuses people on the 3 critical elements to becoming employed and getting participants to a "Work-Life Balance" Lifestyle quickly.
1. Leaving Unemployment
15 Strategies to help the unemployed put a plan in place to leave unemployment

Self Assessment rating scale which demonstrates the critical areas they need to address to ensure they leave unemployment quickly

Copy of leave Unemployment Handbook (optional)
2. Adapt to Employment
10 practical modules covering what todays employers are looking for from employees

Analysis of individuals competence and confidence with these skills

Tips on how to close the gap during unemployment so they become focused on not just getting a job but adapting into employment quickly
3. Enjoyment of Employment
Includes what it would be like to be employed; what benefits it would give to participants and their families, socially, financially and personally

What goals would they like to achieve once they are in employment (go on a holiday, buy a car, new phone/tv/laptop etc.)

Learn how to set goals and maintain focus on getting to enjoyment, personally and professionally
This seminar uses the Coaching Methodology "5 Steps to Success" which helps manage change better, and leads to a focus not only on employment, but on getting closer to enjoyment, personally and professionally.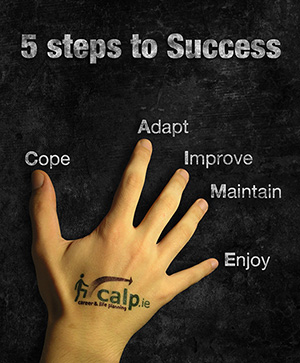 Contact Us
Would you like to learn how our Career or Life Coaching can work for you? 
Please contact us for a free consultation.