1. Methodology
Career & Life Planning has developed a unique coaching methodology that has been supported by Enterprise Ireland's entrepreneurship program – New Frontiers. No other training company has their own methodology designed and delivered to date on this program. That methodology is called "The 5 Steps to Success" and is at the core of all our coaching and training programs for both organisations and individuals.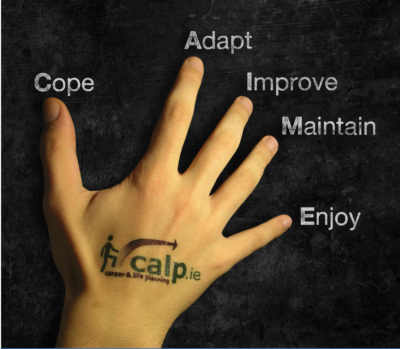 2. Our Approach
The company name; Career & Life Planning ensures that the programs we engage with on behalf of companies and individuals has not only the methodology as core to the learning and training, but that the training is delivered with both home and work scenarios blended into delivery options so that participants get the benefit of the training jointly in their personal and professional lives.
Career & Life Planning has established a model that can help people improve the quality of their personal and professional lives jointly which is based on the "5 Steps to Success Model" and is at the core of all our coaching and training programs for both organisations and individuals.

We have used this unique methodology with many groups and individuals in the area of unemployed coaching and a summary of how the 5 Steps is used is employed during the session.
It allows each client to understand there is a plan to move from their present situation to an improved quality of life, personally and professionally.
It gives them comfort to know the stage they are in, how they got there and how they need to cope better with that situation, adopt new ways of thinking and behaviour so they can start to improve their performance, maintain that level and regain enjoyment in their lives.
It also allows the coach to monitor the person's performance and barriers so that issues can be identified and acted on so the client doesn't get distracted.
Cope – how did and do individuals Cope with being unemployed and what challenges are they facing personally and professionally with this
Adapt – How do they Adapt their thinking to this new reality and accept that in order for things to change for them, new thinking and behaviour skills must be developed to cope with long-term unemployment and prepare to "Leave Unemployment"
Improve – what skills and supports do they need to improve in-order to get them moving on quickly from one mindset into a different and proactive program that allows them to start engaging with new training, job placements, employers etc
Maintain – During the process of change, participants can easily stray off course and our program allows maintenance supports including coaching, webinars, networking, group emails, forums etc at regular intervals to be introduced and availed of by the participants to help them maintain their performance towards "Adapting to Employment"
Enjoy – The enjoyment part of the process is core to its success as we learn what are the key drivers to an individual – personally and professionally, we can concentrate helping them achieve that balance in two key areas; their Ideal Professional Life (i-proL) and Ideal Personal Life (i-perL).
Contact Us
Would you like to learn how our Career or Life Coaching can work for you? 
Please contact us for a free consultation.